Last week, the LEGO Group added three new sets to their Star Wars helmet collection featuring Clone Wars heroes Captain Rex and Clone Commander Cody as precursors to the new releases along with a Princess Leia Boushh helmet from Star Wars: Return of the Jedi. Now they've turned their attention to Marvel with the Guardians of the Galaxy Star-Lord helmet.
The LEGO Star-Lord Helmet (76251) looks fantastic and it has an open top. That means it might just be functional on your desk as a holder for pens and other knick-knacks. The build contains 602 pieces, and you can pre-order it here in the LEGO store for $79.99 with a release date set for April 1. Details on each Star Wars helmet release are below, along with pre-order links. Please note that all three new LEGO Star Wars helmets are expected to ship on March 1.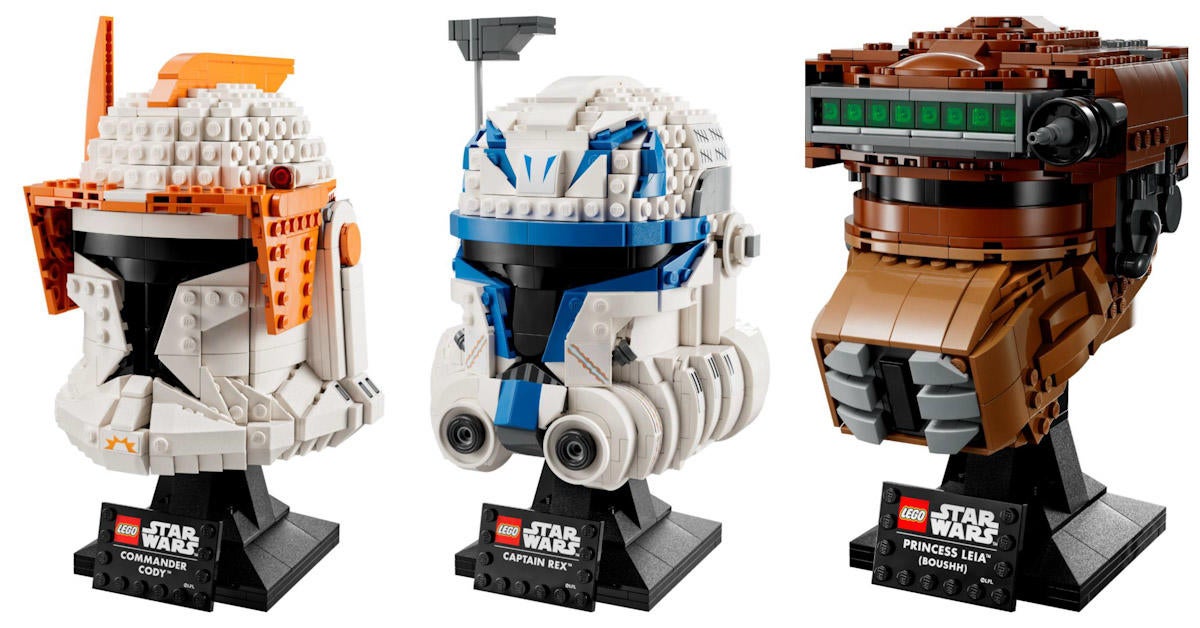 LEGO 75349 Star Wars Captain Rex Helmet ($69.99) – Preorder on Amazon / LEGO: The 501st Legion Clone Commander's LEGO helmet includes the iconic blue brim and rangefinder along with a name tag. As noted, at 854 pieces, it is the largest set in the LEGO Star Wars helmet collection to date.
LEGO 75350 Star Wars Clone Commander Cody Helmet ($69.99) – Preorder on Amazon / LEGO: The LEGO helmet of the leader of the 212th Attack Battalion features signature orange details and a name tag. It is also a large set for the LEGO helmet collection with 766 pieces.
LEGO 75351 Princess Leia (Bushh) Helmet ($69.99) – Pre-order at LEGO: The bounty hunter helmet that Princess Leia wore to infiltrate Jabba the Hutt's palace has been recreated in LEGO form in 670 parts with a name tag as an accessory.
"For two decades now, the Clone Wars have been a hugely important story in the history of the world Star Wars saga, and we are extremely proud to be able to bring two of its most important players to life for fans around the world," said Jens Kronvold Frederiksen, Design Lead for LEGO Star Wars.
"These rewarding, relaxing builds should take pride of place for any LEGO Star Wars collector and offer a new way to create, display and enjoy these iconic characters who played such a central role in many of the stories we know and love from the galaxy far, far away…"
What can you expect from season 2 of The Bad Batch?
Fans of Clone Wars will be happy to hear that The Bad Batch's second season is now streaming on Disney+. Here's how Lucasfilm describes the upcoming season: "When the new season begins, months have passed since the events of Kamino, and the Bad Batch continue their journey to navigate the realm after the fall of the Republic. They will cross paths with friends and enemies both new and familiar as they take on a variety of thrilling mercenary missions that will take them to unexpected and dangerous new places.
Similar Posts: